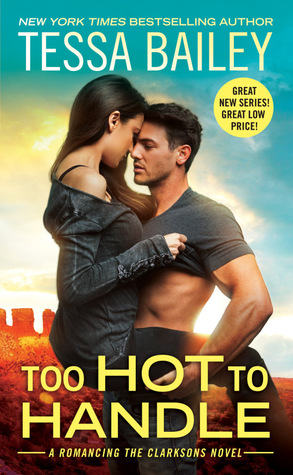 Too Hot to Handle by Tessa Bailey
Series: Romancing the Clarksons #1 (full reading order below)
Publication Date: May 17th 2016
Links: 
Ebook
•
Paperback
 • 
Goodreads
Source: I received an ARC from the publisher in exchange for an honest review
When rescue looks like a whole lot of trouble . . .
The road trip was definitely a bad idea. Having already flambéed her culinary career beyond recognition, Rita Clarkson is now stranded in God-Knows-Where, New Mexico, with a busted-ass car and her three temperamental siblings, who she hasn't seen in years. When rescue shows up—six-feet-plus of hot, charming sex on a motorcycle—Rita's pretty certain she's gone from the frying pan right into the fire . . .
Jasper Ellis has a bad boy reputation in this town, and he loathes it. The moment he sees Rita, though, Jasper knows he's about to be sorely tempted. There's something real between them. Something raw. And Jasper has only a few days to show Rita that he isn't just for tonight—he's forever.
If you know me, then you know Tessa Bailey's books are my kryptonite. Her books are just so freaking gooood. They're full of yummy alpha heroes, kickass heroines, and dirrrty talk, all of which makes for my kind of read. Too Hot to Handle is the first in a brand new series featuring the Clarkson family as they road trip across the country to fulfill their late mother's last wish. And just saying, road trip + Tessa Bailey? Heaven! I really enjoyed Too Hot to Handle – it's got all the Tessa Bailey goodness I expected and a wonderful family dynamic I can't wait to explore even more!
Rita Clarkson's life has gone down the drain – setting her restaurant on fire will do that to a girl. So she's got nothing to lose by fulfilling her late mother's last wish for her children to go to New York, but the problem for Rita is getting all her siblings to agree to the road trip. And once they do, they've barely passed Arizona before their car breaks down. Luckily, a good samaritan stops by to help, and he just so happens to be gorgeous and smokin' hot.
"Here's the thing. I swore off women. But then you came pedaling into town with this mouth, those eyes and the way they see everything… and fuck yes, I want to kiss you. I want to do all manner of things to you."
The moment Jasper Ellis spots Rita, he's taken by her. This is what I love about all of Tessa Bailey's heroes, just how absolutely captivated they are by their heroines. Jasper agrees to help the Clarkson's with their broken down car, but completely for unselfish reasons – he wants time to get to know Rita more, and he wants her to know him, enough so that they can explore the delicious chemistry between them. What neither of them expect is the MORE that comes afterward – but with Jasper stuck in his hometown, and Rita New York-bound, how will a relationship ever work between them?
"You ruined the sky for me today, Rita," he said gruffly. "It's flat-out mediocre without you up against it. I reckon it always will be now."
Jasper and Rita make a fantastic couple. As dirty as Jasper can get in between the sheets, he's also get a sweet, vulnerable side to him I adored seeing. Rita herself has got flaws and hurdles to overcome, but she's a tough chick when she needs to be, and she steps up when the time comes to do so. But I have to say, as much as I liked Jasper and Rita, I just might love the rest of the Clarksons even more! Tessa Bailey does a FANTASTIC job of setting up the other characters for their books, all of which I need ASAP. Peggy, the ex-cheerleader with a mysterious man in her past; Aaron, the politician I can't wait to see fall for a woman; and Belmont, the eldest Clarkson with the most troubled past, whose connection with Peggy's friend Sage is intense and palpable. Gah, I seriously cannot WAIT to see where Tessa Bailey will be taking us with the rest of the series. Too Hot to Handle is a heartwarming, sexy as hell introduction to the Clarksons – if you love contemporary romances, dirty talk, and a wonderful family dynamic, I highly recommend it!
Quotes are taken from the arc and are subject to change in the final version.
---
Reading Order: Romancing the Clarksons series
#1 ~ Too Hot to Handle: Ebook • Paperback • Goodreads
#2 ~ Too Wild to Tame: My Review • Ebook • Paperback • Goodreads
#3 ~ Too Hard to Forget: Ebook • Paperback • Goodreads (April 25, 2017)
#4 ~ Too Bonded to Break: Goodreads (Sept. 5, 2017)
---
FOLLOW BOOKLOVERS FOR LIFE ON:
✦ FACEBOOK • TWITTER • INSTAGRAM • GOODREADS • PINTEREST • BLOGLOVIN' ✦