Welcome to today's stop on the blog tour for Too Hot to Handle by Tessa Bailey!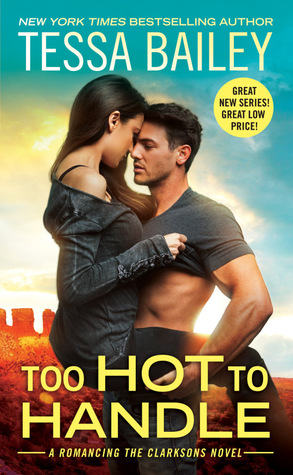 Too Hot to Handle by Tessa Bailey
Series: Romancing the Clarksons #1 (full reading order below)
Publication Date: May 17th 2016

When rescue looks like a whole lot of trouble . . .
The road trip was definitely a bad idea. Having already flambéed her culinary career beyond recognition, Rita Clarkson is now stranded in God-Knows-Where, New Mexico, with a busted-ass car and her three temperamental siblings, who she hasn't seen in years. When rescue shows up—six-feet-plus of hot, charming sex on a motorcycle—Rita's pretty certain she's gone from the frying pan right into the fire . . .
Jasper Ellis has a bad boy reputation in this town, and he loathes it. The moment he sees Rita, though, Jasper knows he's about to be sorely tempted. There's something real between them. Something raw. And Jasper has only a few days to show Rita that he isn't just for tonight—he's forever.
Buy Links:
Amazon • Barnes & Noble • iTunes • Kobo • Google Play
Now here's an excerpt from Too Hot to Handle! ❤
He dipped down until they were nose to nose, saw the rush of thought going on behind her eyes. It was pretty damn breathtaking up close. "Mind cluing me in as to what's going on in there?"
"If—if—we need to stay overnight—"
"You will."
"—then I might see you at the bar." She wedged a hand between them and separated their bodies. "I'd rather see someone's worst than their best. Saves time."
Jasper heard the tow truck pulling into the garage parking lot and cursed. Not even remotely confident that his first attempt at polite conversation with an available woman had been successful, Jasper walked her backward until they were hidden behind a rusted pay phone. She'd broken away from his touch, so he was careful to respect that. He dropped his mouth to an inch above hers and said, low, "I didn't get near enough time with you, Rita. If you don't show up tonight, don't be surprised if I come looking." He laid his palms against the warm building, above her head, watched her gaze dip to his stomach. His lap. "And if I have to come looking, I'll be twice as determined to get that kiss."
Her head came up. "W-what kiss?"
Jasper lowered his mouth until their lips brushed. He listened to her breath accelerate, watched her wet her lips. "The one I want to give you right now." He allowed himself to linger another few seconds, then, with the effort of ten oxen, Jasper stepped back. "Tonight, beautiful."
On his way to his bike, Jasper tipped his hat at Rita's gaping siblings.
Reading Order: Romancing the Clarksons series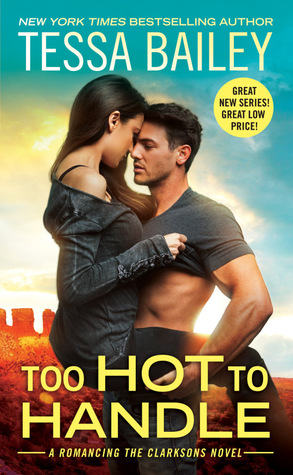 #1 ~ Too Hot to Handle: Ebook • Paperback • Goodreads
#2 ~ Too Wild to Tame: Ebook • Paperback • Goodreads (Sept. 6, 2016)
Tessa Bailey is originally from Carlsbad, California. The day after high school graduation, she packed her yearbook, ripped jeans and laptop, driving cross-country to New York City in under four days.
Her most valuable life experiences were learned thereafter while waitressing at K-Dees, a Manhattan pub owned by her uncle. Inside those four walls, she met her husband, best friend and discovered the magic of classic rock, managing to put herself through Kingsborough Community College and the English program at Pace University at the same time. Several stunted attempts to enter the work force as a journalist followed, but romance writing continued to demand her attention.
She now lives in Long Island, New York with her husband of eight years and four-year-old daughter. Although she is severely sleep-deprived, she is incredibly happy to be living her dream of writing about people falling in love.
---
FOLLOW BOOKLOVERS FOR LIFE ON:
✦ FACEBOOK • TWITTER • INSTAGRAM • GOODREADS • PINTEREST • BLOGLOVIN' ✦