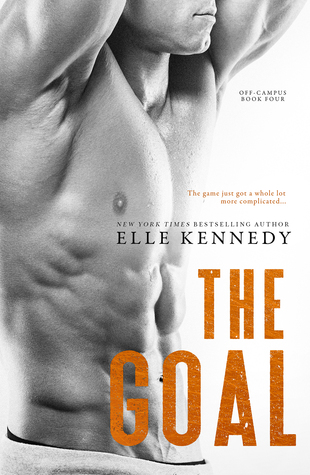 The Goal by Elle Kennedy
Series: Off-Campus #4 (full reading order below)
Publication Date: September 26th 2016
Links: 
Ebook
 •
Paperback
•
Goodreads
Source: I received an ARC from the author in exchange for an honest review
She's good at achieving her goals…
College senior Sabrina James has her whole future planned out: graduate from college, kick butt in law school, and land a high-paying job at a cutthroat firm. Her path to escaping her shameful past certainly doesn't include a gorgeous hockey player who believes in love at first sight. One night of sizzling heat and surprising tenderness is all she's willing to give John Tucker, but sometimes, one night is all it takes for your entire life to change.
But the game just got a whole lot more complicated
Tucker believes being a team player is as important as being the star. On the ice, he's fine staying out of the spotlight, but when it comes to becoming a daddy at the age of twenty-two, he refuses to be a bench warmer. It doesn't hurt that the soon-to-be mother of his child is beautiful, whip-smart, and keeps him on his toes. The problem is, Sabrina's heart is locked up tight, and the fiery brunette is too stubborn to accept his help. If he wants a life with the woman of his dreams, he'll have to convince her that some goals can only be made with an assist.
"I hate to tell you this, Sabrina. But you've made a big mistake."
"What? Why?"
His fingers draw my thong tight, the fabric cutting into my swollen lips. "Because I'm going to ruin you for all future guys. I apologize in advance."
I've been DYING to read this book after the epic reveal at the end of The Score. Tucker is going to be a father – and Sabrina is the mother! The anticipation for The Goal was killer, but the wait was totally worth it, because we get to experience the wonder that is John Tucker and his dirty, dirty mouth. Tucker might be my new favorite of the boys (sorry, Logan!) – he is literally the dream guy. Can you tell I loved him? He is what makes this book shine, and I promise, when you pick this book up, you will fall for him too.
Sabrina James has had her sights set on law school and getting a well-paying job right after since she was capable of dreaming. She won't allow any deviation to her plans – though the occasional romp in the sack does well to relieve stress. And who better to do that with than hockey player John Tucker? Sabrina's got a prejudice against hockey players (cough, Dean), and luckily (or not so luckily) when Sabrina rejects his advances, he knows a no means a no. But Tucker isn't a man who can easily be forgotten or ignored.
I think you're the most fascinating guy I've ever met.
I think you're amazing in bed and I want to fuck you again.
I think if I was capable of having my heart broken, you'd have the power to break it.
Oh, Tucker. This glorious, incredible, beautiful man with his wicked mouth. He was not at all the kind of character I expected him to be, and this was the best kind of surprise. I adored how gentlemanly he was (he really does know what a no means) but that in no way affected how alpha he was. He's completely confident in who he is, and when he's got his sights on winning the woman of his dreams, he'll go into that fight with his whole heart. Sabrina doesn't make it easy, but Tucker is beyond patient (at least way more patient that I could ever be). He's got a heart and soul of gold – I absolutely adored him!
You're the only one for me.
My sun rises and sets on your smile.
My heart beats because yours does.
The Goal isn't quite my favorite of the series, but it's still another incredible installment to this fantastic new adult sports romance series. Fans of the series won't want to miss this – The Goal has more of Elle Kennedy's wonderful writing, witty humor, and cameos of all the characters in the previous books. AND, the best part about this book? Tucker's filthy, glorious mouth! I honestly still can't get over Tucker's dirty talk – it was seriously divine. I had some problems with Sabrina, namely how long it took her to accept her love for Tucker and his love for her, but if you're a patient reader, you should have no problem with his.
So yeah, The Goal is another win from Elle Kennedy. But I'm praying this won't be the end of Off-Campus – I need more! So much more. Namely, Fitzy – I'm hoping we get his story eventually! Honestly, I'll take anything as long as this isn't the end of the series!
Quotes are taken from the arc and are subject to change in the final version.
---
Reading Order: Off-Campus series
#1 ~ The Deal: My Review • Ebook • Paperback • Audible • Goodreads
#2 ~ The Mistake: My Review • Ebook • Paperback • Audible • Goodreads
#3 ~ The Score: My Review • Ebook • Paperback • Goodreads
#4 ~ The Goal: Ebook • Paperback • Goodreads
Check out the new covers of the series!
---
FOLLOW BOOKLOVERS FOR LIFE ON:
✦ FACEBOOK • TWITTER • INSTAGRAM • GOODREADS • PINTEREST • BLOGLOVIN' ✦