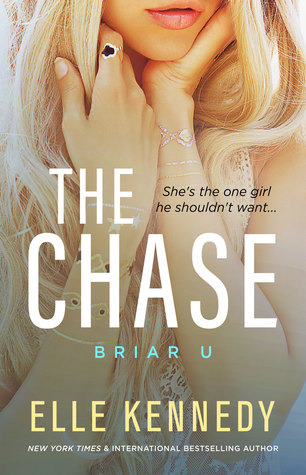 The Chase by Elle Kennedy
Series: Briar U #1 (full reading order below)
Publication Date: August 6th 2018
Links: 
Ebook
 •
Goodreads
Source: I received an ARC from the author in exchange for an honest review
Everyone says opposites attract. And they must be right, because there's no logical reason why I'm so drawn to Colin Fitzgerald. I don't usually go for tattoo-covered, video-gaming, hockey-playing nerd-jocks who think I'm flighty and superficial. His narrow view of me is the first strike against him. It doesn't help that he's buddy-buddy with my brother.
And that his best friend has a crush on me.
And that I just moved in with them.
Oh, did I not mention we're roommates?
I suppose it doesn't matter. Fitzy has made it clear he's not interested in me, even though the sparks between us are liable to burn our house down. I'm not the kind of girl who chases after a man, though, and I'm not about to start. I've got my hands full dealing with a new school, a sleazy professor, and an uncertain future. So if my sexy brooding roomie wises up and realizes what he's missing?
He knows where to find me.
OHHH MY GOD. I loooved The Chase!! Elle Kennedy's Off-Campus series is one of my favorite college/new adult/sports romance series ever, so the anticipation for its spinoff series was REAL. I'm so happy to say that Elle Kennedy did not disappoint with The Chase (though does she ever!?). I adored Summer and Fitzy's story. I literally had a smile on my face the whole time I was reading them. And these new hockey boys Elle introduced had me cracking up like crazy – though I did love seeing some old, beloved characters too 😉 If you loved the Off-Campus series, you definitely need this spin-off series in your life!
I want a man with clear intentions. A man who makes an effort and is excited to spend time with me. A man who actually wants to want me.
If he has to fight himself to be with me, then chances are he'd never fight for me if it came down to it.
What woman would ever choose somebody like that?
I adore a good opposites-attract romance, and you can't get more opposite than with Summer and Fitzy. Summer is your privileged, dramatic, outgoing, fashion-loving girl, while Fitzy is a drama-hating, introverted, game-playing/-making nerd and hockey player. One's all light and the other is pretty gloomy. But despite their differences, these two have wanted each other from the very start – but they get off to a rough start when Summer overhears Fitzy judging Summer as an airhead. And… they also become roommates (awkward). Can he make her believe that he sees her for who she really is: his sunshine?
… I never felt truly alive until Summer.
I don't want to be with a woman who hides in the shadows with me, because that enables me to keep hiding. And that's what I've done for years—hidden pieces of myself from my parents, my friends, chicks, the world. I want someone who encourages me to step out of my comfort zone, and Summer is that someone.
I had the BEST time reading The Chase. It's funny, smart, relatable, sexy – everything I wanted in a college sports romance and more. Do I believe that the Briar U series has the potential to live up to its predecessor? Absolutely. I fell in love with Fitzy and Summer, their sweet, hilarious, slightly angsty romance, and can't wait to read more of the new characters. I am dying to get my hands on the next book. I can't get enough of Elle Kennedy's fantastic storytelling!
Quotes are taken from the arc and are subject to change in the final version.
---
Reading Order: Briar U series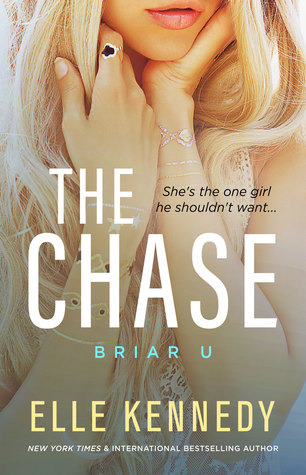 #1 ~ The Chase: Ebook • Goodreads
#2 ~ The Risk: Ebook • Goodreads (Feb. 18, 2019)
Reading Order: Off-Campus series
#1 ~ The Deal: My Review • Ebook • Paperback • Audible • Goodreads
#2 ~ The Mistake: My Review • Ebook • Paperback • Audible • Goodreads
#3 ~ The Score: My Review • Ebook • Paperback • Audible • Goodreads
#4 ~ The Goal: My Review • Ebook • Paperback • Audible • Goodreads
---
FOLLOW BOOKLOVERS FOR LIFE ON:
✦ FACEBOOK • TWITTER • INSTAGRAM • GOODREADS • PINTEREST • BLOGLOVIN' ✦