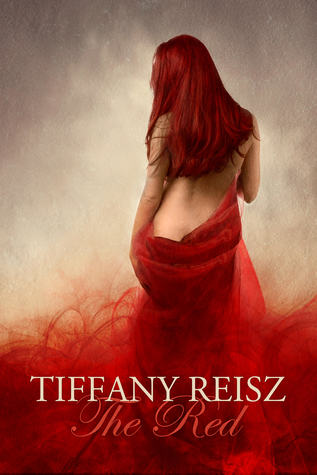 The Red by Tiffany Reisz
Series: Standalone
Publication Date: July 11th 2017
Links:
Ebook
 • 
Paperback
 • 
Goodreads
Source: I received an ARC from the author in exchange for an honest review
The Red is a standalone novel of erotic fantasy from Tiffany Reisz, international bestselling author of The Bourbon Thief and the Original Sinners series.
Mona Lisa St. James made a deathbed promise that she would do anything to save her mother's art gallery. Unfortunately, not only is The Red painted red, but it's in the red.
Just as she realizes she has no choice but to sell it, a mysterious man comes in after closing time and makes her an offer: He will save The Red if she agrees to submit to him for the period of one year.
The man is handsome, English, and terribly tempting…but surely her mother didn't mean for Mona to sell herself to a stranger. Then again, she did promise to do anything to save The Red…
The Red is literally the hottest book I've ever read in my life, and I've read the Original Sinners series, which you know is saying something. The Red is erotica in its purest, dirtiest, and finest form… and I wholeheartedly LOVED IT. I normally don't get into books without a romance or love story, but by god, if Tiffany Reisz writes something, I'll read it. I trust her to to give her readers something that will blow their mind and their panties off, and she's yet to disappoint. The Red is a beautiful erotic story about an art gallery owner who sells her body to a mysterious man to save The Red from bankruptcy. If you love Tiffany Reisz or erotica, then you do NOT want to miss this captivating read!
"You're sitting on a goldmine, Mona. Literally"
She blushed. "I've never had my vagina called a goldmine before."
"Perhaps I was referring to your arse."
"Oh yes, hadn't thought of that."
Mona Lisa St. James promised her mother that she'd do anything to save her art gallery. But with The Red not doing so hot, Mona realizes it's time to sell the place. Just when she's about to give up, a mysterious man shows up at the gallery and offers her a deal: he will save The Red if she gives him carte blanche over her body once a month for a year. This wasn't quite what she had in mind when she made her promise to her mother, but how can she resist the allure of the sexy man and the possibility of saving her gallery?
"You were meant to do this," he said softly. "You'll see."
"Why me?" she asked. "Millions of women in this country, millions in yours… why me?"
"Millions of paintings in the world. Only one Mona Lisa. Billions of women in this world. Only one you, Mona Lisa St. James."
Mona has no idea what to expect, and neither did I for that matter. I was in no way prepared for the ridiculously dirty, filthy things that the mystery man had in store for Mona, but I sure did love it. Every month, he sends Mona a piece of artwork that reflects the kind of sex he wants from her – and there's honestly nothing romantic about it. It's the no-holds-barred, raw, filthy kind of sex that you can only come up with in your fantasies, but they come to life for Mona thanks to him.
His money made her a whore, but his cock had made her his slave. She never wanted to taste freedom again. She only wanted to taste him.
I've honestly never been so turned on in my life while reading a book. I thought Tiffany Reisz succeeded with that with the Original Sinners, but it turns out I was wrong. If you're looking for pure, decadent smut, look no further than The Red. It is the most incredible, entertaining read I've read in a while. I loved the twist at the end that had everything come full circle, though really, I never wanted this book to end. I can only hope Tiffany Reisz writes more books like this one!
Quotes are taken from the arc and are subject to change in the final version.
---
Also by Tiffany Reisz
Standalones
The Bourbon Thief: Ebook • Paperback • Audible • Goodreads
The Night Mark: Ebook • Paperback • Audible • Goodreads
The Original Sinners series
#1 ~ The Siren: Ebook • Paperback • Audible • Goodreads
#2 ~ The Angel: Ebook • Paperback • Audible • Goodreads
#3 ~ The Prince: Ebook • Paperback • Audible • Goodreads
#4 ~ The Mistress: Ebook • Paperback • Audible • Goodreads
#5 ~ The Saint: Ebook • Paperback • Audible • Goodreads
#6 ~ The King: Ebook • Paperback • Audible • Goodreads
#7 ~ The Virgin: Ebook • Paperback • Audible • Goodreads
#8 ~ The Queen: Ebook • Paperback • Audible • Goodreads
Novella ~ The Mistress Files: Ebook • Goodreads
Collection ~ The Confessions: Ebook • Paperback • Goodreads
---
Win a set of 11 collectable cards featuring artwork from The Red
US Only
---
FOLLOW BOOKLOVERS FOR LIFE ON:
✦ FACEBOOK • TWITTER • INSTAGRAM • GOODREADS • PINTEREST • BLOGLOVIN' ✦