Happy release day to Tessa Bailey – Too Beautiful to Break is now live!! Check out Tessa's top 5 Belmont moments, an excerpt, and a giveaway below!
Top 5 Belmont Moments
Hello! Thank you for having me! This is such a tough question. I'm going to pick my top five Belmont moments from throughout the series, because I can't confine them to one book. Here we go!
In TOO HOT TO HANDLE: When Sage shows up in New Mexico. She has recently cut her bangs and Belmont tells her he doesn't like them, because if they grow longer they'll hide her eyes from him.
In TOO WILD TO TAME: When Aaron shows up after breaking up with Grace, demanding Belmont punch him in the face. But Belmont pulls him into a bear hug, instead.
In TOO HARD TO FORGET: When Belmont runs into Elliott for the first time, knowing Elliott has broken his sister's heart. He gets in Elliott's face and says, "You didn't really see her. You still don't. You'll get no sympathy from me." It was such a heroic moment and I loved that he stepped up and played champion to Peggy. She needed it. And it proved how much Belmont pays attention—he knew Peggy was special and had a lot going on under her surface.
In TOO BEAUTIFUL TO BREAK: When he arrives at Sage's parents' house and they ask who he is. He says, "I'm your daughter's…I'm your daughter's."
In TOO BEAUTIFUL TO BREAK: You're going to have to trust me on this one…but I think my favorite scene is when he goes shopping for condoms! It was so unusual for Belmont to perform that kind of every day task and I loved writing it.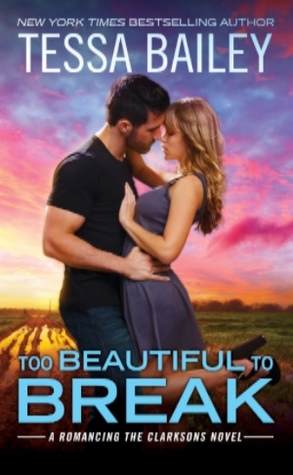 Too Beautiful to Break by Tessa Bailey
Series: Romancing the Clarksons #4 (full reading order below)
Publication Date: September 26th 2017

A love of a lifetime . . .
Leaving Belmont Clarkson is the hardest thing Sage Alexander has ever done. From the moment they met, she knew Belmont was the one, and getting up close and personal with him on his family's epic road trip has taken her desire to a new, even hotter level. But there's no way she can go there—not without revealing secrets that could devastate them both.
Losing Sage is not an option. Belmont's heart is hers, has always been hers. He knows she's hiding something from him, but nothing will stand in his way of telling her just how much she means to him. Finding her is easy—saving her from her past could cost him everything.
Buy Links:
Amazon • Barnes & Noble • Books-A-Million • Google Play • iBooks • Indiebound • Kobo
Now here's an excerpt from Too Beautiful to Break! ❤
"You don't have to leave right away," Sage said when Belmont turned, watching her from beneath his eyebrows. "Can you wait here while I take a quick shower?"
Maybe that hadn't been the right thing to say. His big back heaved and the touch of his tongue in her mouth came crashing in like a behemoth wave. They had crossed an unspoken boundary on the train platform. There was no going back to before, to when they stopped at rough, crushing embraces. As if that hadn't been…more than sexual somehow.
"Yes, I'll wait," he said, his voice sounding like serrated metal. "I can light the fire for you."
I'll say. God, why did everything sound like an innuendo now? If her body weren't flush and sweating beneath the jumpsuit, she would have laughed about it. But there was nothing funny about having Belmont looming mere yards away, looking like one word of encouragement would snap his chain and send him barreling toward her. "That would be perfect. I'll just be…a few minutes."
Sage all but dove into the itty-bitty bathroom, pressing her back up against the door and willing her racing heart to calm down. Why had she asked him to stay? Her resolve would weaken with every passing second. Biting down on her lower lip, she began the excruciating task of lowering the zipper of her jumpsuit, which kicked up a protest in her triceps and shoulder muscles. When she finally got it down, she gripped the hem of her T-shirt and attempted to lift it over her head.
Her arms wouldn't cooperate. They flat out wouldn't rise any higher than her ribs, leaving the T-shirt suspended in midair. Her muscles burned like someone had doused them in lighter fluid and held them above a flame. Sage's agony must have escaped in the form of a whimper, because Belmont's boots scraped just outside the door. And her stomach hollowed with awareness, lightning racing all over her skin.
"Sage." His voice was deep, urgent. "Do you need help?"
No. Say no. She'd only gotten finished reminding him she didn't need him. But in this case, it would be a lie and she'd done so much of that lately. With Belmont. The most truthful person she knew. "I can't get my shirt off." Her nose started to ache, the tip probably turning red. "My arms hurt."
His growl was short and broken. A beat passed before the door opened and she felt Belmont filling the doorway behind her. She flicked a glance up to the ancient mirror and confirmed what she'd seen in her mind's eyes. Belmont towering over her like an avenging angel, outlined by candlelight. He'd taken off his coat, leaving him in a black long-sleeved shirt, which he'd rolled up to the elbows. Every inch of visible skin was shot through with strained cords of muscle, as if his frustration were written on him like a road map.
Sage still had the shirt halfway lifted, so her lower back was visible. Not a big deal to most people. But Belmont had never seen anything below her neck. Or above her knees. With the jumpsuit peeled halfway down, the band of her underwear might even be peeking out.
Breathing grew difficult as Belmont took one step closer and took hold of the T-shirt, his knuckles grazing the small of her back. "You're wearing"—his breath ghosted down her neck—"my shirt."
Sage only realized she'd closed her eyes when they popped open. Oh God. In the shock of Belmont arriving, she'd forgotten. "I am?" Her mouth was parched. "L-look at that."
"I am looking." She jumped when Belmont reached over her shoulder with his left hand and turned on the shower, the sound of spray filling the room. Then the roughness of his knuckles returned, sliding up her spine along with the shirt. "I like knowing there was a layer of me standing between you and the earth."
Her legs took on the consistency of Jell-O. His touch was a drug, making her languid, although it was different than the way he usually touched her. There was sex this time. So much of it. And it was that major difference that allowed Sage to accept the skimming of his fingers. Accept the part of herself that lusted. They were in a dark room and time had surely suspended anywhere outside this little plot of square footage. Words ached to leave her mouth, words that wouldn't be suitable in the sunlight. This man, so warm and brave and large at her back, knew things about her no one else did. What was one more secret? "I stole it out of your suitcase. I broke a commandment and everything."
"Why?" He breathed into her hair, sinking heat like an anchor in her belly. The shirt came off, her arms dropped to her sides, and she was left in nothing but a bra from the waist up. Inches from Belmont. "Why, sweetest girl?"
A light steam had begun curling in the air like beckoning fingers. Maybe this is a dream. It felt like one of the fevered fantasies she woke from on occasion, sweat slicking her breasts and neck. "Because I like the way you smell and it hadn't been washed."
His exhale was gravelly. "Sage."
"Yes."
She thought he might not respond, but finally he asked a question that made her nipples turn to hard points. "Can you manage"—a long, windy inhale—"the bra?"
Sage tried. She really, truly did. Her arms felt as though they might break off and hit the floor, but she reached back until her muscles locked up, refusing to move farther. But Belmont was already there, pushing them back down, holding them at her hips.
"Jesus. Please, stop. I can't watch it." His touch disappeared only for a second and then the cotton material of the bra tightened over her breasts. She could feel him working the back clasp with fingers she knew so well. They'd tunneled through her hair so many times, twisted in her clothing, but had never, ever, touched her with any kind of…intent. Intent to seduce. And that's what he was doing, intentional or not. The inhibitions she'd held close forever, circled the drain, along with the shower water. "Your back is so beautiful." A ghost of a fingertip traced down her spine. "But I need to leave before I—"
"What?"
"Before I turn you around." They weren't touching, but she could sense the shudder that ran through him. "Or look in that mirror."
Right or wrong, the mine, their codependency aside, Sage knew if she let him leave just then, she would regret it for all time. Her body had been woken up. By one man. He'd kept her on the razor's edge for thousands of miles, surrounding her with his power and taking it away. Over and over. And this fever wrapping around them in the tiny bathroom was completely different from easing his anxiety. Finally, she felt like a woman standing in front of him, instead of a calming device. This was mutual and alive and she couldn't stand it to end. Tomorrow might be a different story, but this moment was the culmination of a thousand dreams and she could no more deny herself than she could forget his face.
"Belmont, do you think of the kiss?"
"I never stop," he groaned into her hair. "Never."
She took a deep breath for courage. "Will you shower with me?"
Reading Order: Romancing the Clarksons series
#1 ~ Too Hot to Handle: My Review • Ebook • Paperback • Audible • Goodreads
#2 ~ Too Wild to Tame: My Review • Ebook • Paperback • Audible • Goodreads
#3 ~ Too Hard to Forget: My Review • Ebook • Paperback • Audible • Goodreads
#3.5 ~ Too Close to Call: My Review • Ebook • Paperback • Goodreads
#4 ~ Too Beautiful to Break: Ebook • Paperback • Audible • Goodreads
Tessa Bailey is originally from Carlsbad, California. The day after high school graduation, she packed her yearbook, ripped jeans, and laptop, and drove cross-country to New York City in under four days. Her most valuable life experiences were learned thereafter while waitressing at K-Dees, a Manhattan pub owned by her uncle. Inside those four walls, she met her husband, best friend, and discovered the magic of classic rock, managing to put herself through Kingsborough Community College and the English program at Pace University at the same time. Several stunted attempts to enter the work force as a journalist followed, but romance writing continued to demand her attention.
She now lives in Long Island, New York with her husband and daughter. Although she is severely sleep-deprived, she is incredibly happy to be living her dream of writing about people falling in love.
Win 1 of 10 paperback copies of TOO BEAUTIFUL TO BREAK by Tessa Bailey
---
FOLLOW BOOKLOVERS FOR LIFE ON:
✦ FACEBOOK • TWITTER • INSTAGRAM • GOODREADS • PINTEREST • BLOGLOVIN' ✦