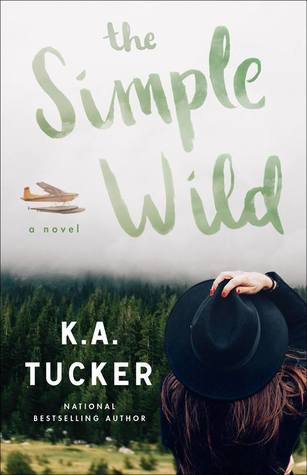 The Simple Wild by K.A. Tucker
Series: Standalone
Publication Date: August 7th 2018
Links: 
Ebook
 •
Paperback
 • 
Audible
•
Goodreads
Source: I received a copy from the publisher in exchange for an honest review
City girl Calla Fletcher attempts to reconnect with her estranged father, and unwittingly finds herself torn between her desire to return to the bustle of Toronto and a budding relationship with a rugged Alaskan pilot in this masterful new romance from acclaimed author K.A. Tucker.
Calla Fletcher was two when her mother took her and fled the Alaskan wild, unable to handle the isolation of the extreme, rural lifestyle, leaving behind Calla's father, Wren Fletcher, in the process. Calla never looked back, and at twenty-six, a busy life in Toronto is all she knows. But when her father reaches out to inform her that his days are numbered, Calla knows that it's time to make the long trip back to the remote frontier town where she was born.
She braves the roaming wildlife, the odd daylight hours, the exorbitant prices, and even the occasional—dear God—outhouse, all for the chance to connect with her father: a man who, despite his many faults, she can't help but care for. While she struggles to adjust to this new subarctic environment, Jonah—the quiet, brooding, and proud Alaskan pilot who keeps her father's charter plane company operational—can't imagine calling anywhere else home. And he's clearly waiting with one hand on the throttle to fly this city girl back to where she belongs, convinced that she's too pampered to handle the wild.
Jonah is probably right, but Calla is determined to prove him wrong. As time passes, she unexpectedly finds herself forming a bond with the burly pilot. As his undercurrent of disapproval dwindles, it's replaced by friendship—or perhaps something deeper? But Calla is not in Alaska to stay and Jonah will never leave. It would be foolish of her to kindle a romance, to take the same path her parents tried—and failed at—years ago.
It's a simple truth that turns out to be not so simple after all.
The Simple Wild is now one of my new favorite reads of 2018! I almost cried at the end of this book, while I was taking public transportation. That's how intensely emotional this book is, since I rarely ever cry while reading. I fell in love with Calla, her family, Jonah, flying, and Alaska in this phenomenal read. This is definitely my favorite K.A. Tucker read to date and I highly recommend this beautifully written book – it's the kind of read that you won't be able to forget.
City girl Calla Fletcher never thought she would travel to a remote town in Alaska of all places, but when someone who works with her estranged father tells her that he has terminal cancer, she packs her bags to go see the man who abandoned her for over two decades, who always chose his job as a pilot over his daughter, before he's truly gone from her life.
At its heart, The Simple Wild is about relationships and taking chances. Calla is woefully unprepared for the wilds of Alaska – but what city girl wouldn't be? But she takes the chance to go see her father and reconnect with him after decades in the hopes she won't have any regrets about their relationship by the time he's gone. She takes a chance on Alaska, on its unforgiving nature and the close-knit community that the Alaskan small town has. And she takes a chance on a surly, gorgeous pilot named Jonah, who she can't help but go head to head with. But even after letting all these new experiences and people into her heart, can a city girl at heart and the wilds of Alaska truly mesh?
The Simple Wild quite simply wrecked me. As soon as I picked it up, I couldn't stop reading Calla's heartfelt story. I felt for this girl, the way she tries to make a new relationship with her father, the way she stands up to Jonah and falls slowly in love with him. I never expected to fall in love with Alaska, but K.A. Tucker writes the place in a way that makes it come to life. I am beyond impressed with this breathtaking story and highly recommend it for those who want more in their contemporary romances!
---
Also by K.A. Tucker
Standalones
He Will Be My Ruin: Ebook • Hardcover • Paperback • Audible • Goodreads
Keep Her Safe: My Review • Ebook • Hardcover • Paperback • Audible • Goodreads
Reading Order: Burying Water series
#1 ~ Burying Water: My Review • Ebook • Paperback • Audible • Goodreads
#2 ~ Becoming Rain: Ebook • Paperback • Audible • Goodreads
#3 ~ Chasing River: My Review • Ebook • Paperback • Audible • Goodreads
#4 ~ Surviving Ice: My Review • Ebook • Paperback • Audible • Goodreads
---
FOLLOW BOOKLOVERS FOR LIFE ON:
✦ FACEBOOK • TWITTER • INSTAGRAM • GOODREADS • PINTEREST • BLOGLOVIN' ✦