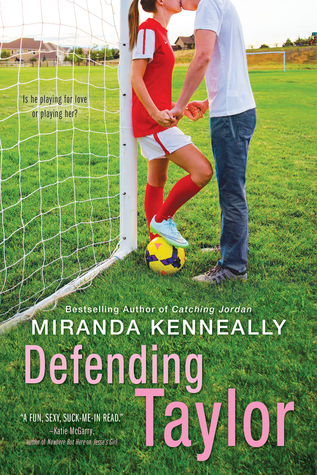 Defending Taylor by Miranda Kenneally
Series: Hundred Oaks #7 (full reading order below)
Publication Date: July 5th 2016
Links: 
Ebook
• 
Paperback
• 
Goodreads
There are no mistakes in love.
Captain of the soccer team, president of the Debate Club, contender for valedictorian: Taylor's always pushed herself to be perfect. After all, that's what is expected of a senator's daughter. But one impulsive decision—one lie to cover for her boyfriend—and Taylor's kicked out of private school. Everything she's worked so hard for is gone, and now she's starting over at Hundred Oaks High.
Soccer has always been Taylor's escape from the pressures of school and family, but it's hard to fit in and play on a team that used to be her rival. The only person who seems to understand all that she's going through is her older brother's best friend, Ezra. Taylor's had a crush on him for as long as she can remember. But it's hard to trust after having been betrayed. Will Taylor repeat her past mistakes or can she score a fresh start?
Can I first just say that I am a huge fan of Miranda Kenneally and it's always inevitable that I end up falling in love with the main male character. Defending Taylor was no different, although the beginning was a bit too slow for my taste. However, the book was definitely nostalgic for me since it took place during the heroine's senior year of high school as she goes through the process of applying to college.
Taylor is the perfect well-rounded student that all colleges want. She has straight A's, is the captain of the soccer team, and is the daughter of a politician. Then she messes up and gets expelled. With her dad running a campaign at the same time, news of her expulsion makes a huge impact on his career. Already feeling guilty, Taylor doesn't want to tell her parents the real cause of her expulsion. In comes Ezra, a total heartthrob, her childhood crush, and also her brother's best friend, who helps her put her own life and decisions into perspective.
I'm a sucker for books like these, where the main character goes through a period of self-discovery and has no idea what she wants in life because HELLO *points at self*. I loved following Taylor through this journey of hers and literally reading about how she grows and accepts who she really is. When she discovers what she's passionate about and what she actually wants to major in, I was there screaming "YESSS GIRL." I had flashbacks of when I was applying to college… although I haven't figured out the whole "what I want to do in life" part yet.
To be quite honest, I wanted to read this book because it seemed light and fun (like most of Kenneally's books), so I didn't think that I would actually learn so much about passion and self-love. I'd definitely recommend this book to anyone who's going through something similar or if you're just looking for a light read for the summer.
---
Reading Order: Hundred Oaks series
#1 ~ Catching Jordan: Ebook • Paperback • Audible • Goodreads
#2 ~ Stealing Parker: Ebook • Paperback • Audible • Goodreads
#3 ~ Things I Can't Forget: Ebook • Paperback • Audible • Goodreads
#4 ~ Racing Savannah: Ebook • Paperback • Audible • Goodreads
#5 ~ Breathe, Annie, Breathe: Lacey's Review • Ebook • Hardcover • Paperback • Audible • Goodreads
#6 ~ Jesse's Girl: Lacey's Review • Ebook • Hardcover • Paperback • Goodreads
#7 ~ Defending Taylor: Ebook • Paperback • Goodreads
---
FOLLOW BOOKLOVERS FOR LIFE ON:
✦ FACEBOOK • TWITTER • INSTAGRAM • GOODREADS • PINTEREST • BLOGLOVIN' ✦